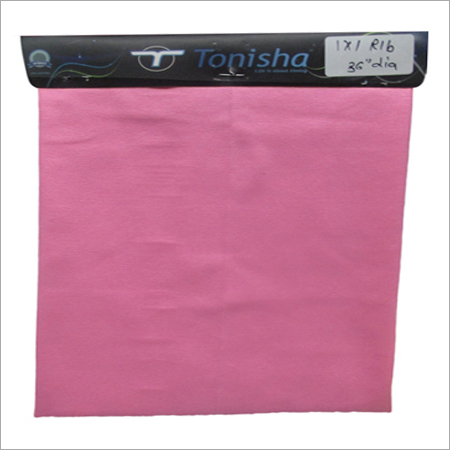 RIB Fabric Price
200.00 - 550.00 INR

20 Kilograms
RIB Fabric Specification
Fabric

Light in Weight, Exceptionally Soft, Washable, Quick Dry

Pink

Garments

Plain

Plain
RIB Fabric Trade Information
Cash Advance (CA), Cash in Advance (CID)

100 Kilograms Per Day

1-5 Week

All India
RIB Fabric Description
We are exceedingly well known manufacturer and supplier of RIB Fabric in the market in light of their prevalent use in various applications. These have prepared versatility and also include tasteful complete which makes them appropriate for various end employments. The offered textures can likewise be made accessible through corner to corner stripes and other complete examples as requested by the clients. Further, these RIB Fabric texture assortments are solid and do not tear effectively, in this way settling on it a perfect decision for final results like jeans, outfits and additionally in different applications.

Rib sew texture is comprised of equal vertical lines and has a ton of stretch. This makes it ideal for use in snug dress, like tops, tights, clothing, socks, and so on. There are various kinds of rib weave texture accessible, so we should investigate them.
What is rib weave texture?
Rib sew textures are described by their unmistakable ribbing, which shows up as upward lines on the outer layer of the texture. You can plainly see knocks or edges that run lined up with the textures selvage on its front and back. The ribbing is made by substituting lines of sew and purl join, which gives the texture a finished look.
Contingent upon the yarn and fasten utilized, rib weave textures can go from lightweight and extremely stretchy to thick and very solid.
Rib sews are a sort of twofold confronted texture, implying that they appear to be identical on the front and back. This makes them ideal for projects, where you believe that the texture should appear to be identical on the two sides.
They have practically no the long way stretch, however they in all actuality do have extraordinary across stretch. While looking for rib sew texture, make certain to really take a look at the stretch rate, as this will decide how much the texture will extend when it is utilized in a piece of clothing.
Various Sorts Of Rib Sew Textures:
Ribbed sew textures have a particular example of vertical ribs on the two sides, delivered by rotating weave (raised) and purl (lower) lines.
On the off chance that you are scratching your head at that large number of numbers, the main number alludes to the quantity of lines with weave join. The subsequent number is the quantity of columns with purl fastens.
FAQs of RIB Fabric:
What is rib texture utilized for?
Rib weaves are utilized habitually in shirts, as well concerning the trims of socks, sleeves, midriffs and neck areas. This development can likewise be tracked down in sweaters and ladies dresses.
What does rib texture consist of?
Rib sew textures are normally made of cotton or rayon filaments, or a mix thereof. I like for the most part rayon mix rib sews on the grounds that they have a wonderful fluid wrap and an extremely delicate hand. I likewise find that rayon rib weaves have preferable recuperation over 100 percent cotton rib sews.
How might you recognize a rib texture?
Rib sew, likewise now and again known as ribbing, has finished vertical lines that are raised. This example is made with a twofold weaving machine with finished vertical lines. You can rapidly recognize a rib sew as a result of its opposite ribs.
Other Products in 'Plain Fabric' category
Get in touch with us